Three young Londoners supported by a Thrive LDN and Team London funded project in Hackney have won awards on the national stage.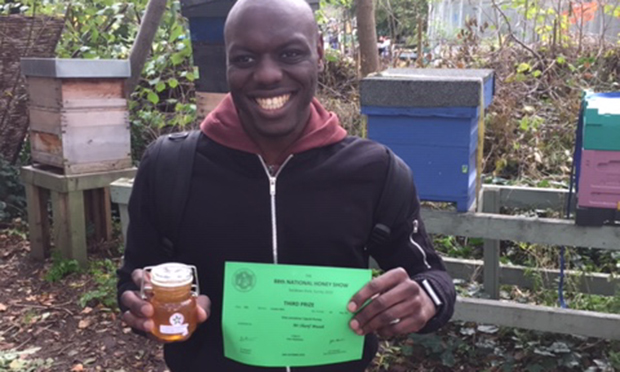 The Buzzin' project' at St Mary's Secret Garden in Hackney helps young people experiencing poor mental health learn valuable life skills through beekeeping, besides many other skills.
Three participants from the project recently entered the 88th National Honey Show in the category for liquid honey displayed in a novelty container. Khalid, Sharif and Junyan won second, third and very highly commended prizes respectively in a field of 15 contestants.
Mark Patterson, resident beekeeper at St Mary's, said: "There were around 40 entries in this class, so they did really well to win something as they are competing against seasoned beekeepers, some of whom are full-time professionals.
"For kids new to beekeeping with learning challenges this is a really big deal for them and a huge boost to their confidence.
"It's not just about training them to be beekeepers, it's more about transferrable skills that they learn, helping them get jobs and overcome their difficulties through looking after the bees."
Dan Barrett, Thrive LDN director, said: "We're delighted that Khalid, Shariff and Junyan all won prizes at the National Honey Show for their efforts.
"The awards go to show the positive impact that community-based projects like this can make to young Londoners' lives, giving them the skills and confidence to be active members of their communities and lead happier, healthier, more fulfilling lives. We can also confirm that the honey is very tasty."
Buzzin' has been running since May and offers 20-30 participants between the ages of 12 and 25. Buzzin' is one of Thrive LDN's Young London Inspired projects with Team London, which work with community groups, small charities and voluntary sector organisations to run one year projects which encourage young Londoners to volunteer or take part in social action.
The participants on the Buzzin' project have a variety of complex social and special educational needs, who are taught essential life skills by using beekeeping as an entry into the world of work.