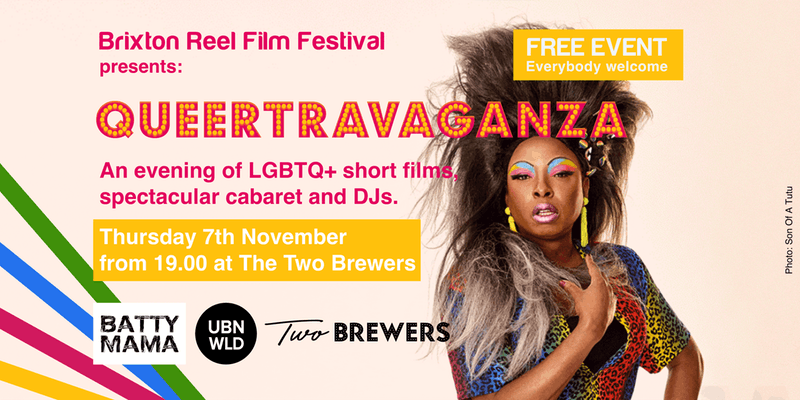 Delivered in partnership with Urban World, The Batty Mama and Thrive LDN, the Brixton Reel Film Festival 2019 opens with Queerstravaganza.
The Film Festival is a celebration of different communities' experience and wellbeing. The events include screenings of new films, DJs and a live cabaret show including musicians, poets and performance artists. The festival follows the recent Too Black Too Queer event last month.
All events are free to attend but pre-registration is required. You can register via the links below.
Queertravangaza
A one-night extravaganza of LGBTQ+ culture and wellbeing with new films, DJs and live performance from top acts. Compered by the marvellous Son of A Tutu.
Date: Thursday 7 November, 7pm onwards
Location: The Two Brewers, 114 Clapham High Street, London, SW4 7UJ
—
Too Latino Too Queer
Brixton Reel, Exilio, Telefono de la Esperanza, Naz Project and Thrive LDN come together for a one night extravaganza celebrating Latin LGBTQ+ experience and wellbeing. Seats are limited, so advance booking is strongly recommended.
Date: Wednesday 13 November, 7pm
Location: Eagle Vauxhall, 349 Kennington Lane, Vauxhall, London SE11 5QY
—
Rude Boy: The Story of Trojan Records
A film about the love affair between Jamaican and British Youth culture told through perspective of one the most iconic record labels – Trojan Records.
Date: Thursday, 14 November, from 6pm
Location: Karibu Education Centre, 7 Gresham Rd, Brixton, London, SW9 7PH
—
A Nossa Historia
A social and recreational event at Toca exploring the wellbeing of Portuguese Men. The event will be mostly spoken in Portuguese.
Date: Friday, 15 November, 5pm to 8pm
Location: Toca Restaurant, 341 Wandsworth Road, London, SW8 2JH
—
A Journey Less Ordinary – Transgender People and Wellbeing
An afternoon of new short films, live performance and discussion on Transgender people's experience from a diverse communities point of view and exploring looking after one's mental wellbeing.
Date: Sunday, 17 November, 12pm to 3.30pm
Location: Barbican Cinema, Barbican Centre, Silk St, London EC2Y 8DS