A blog by Camilla Royle.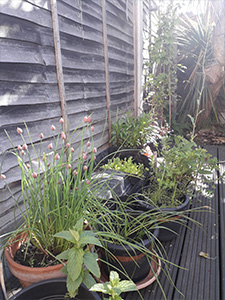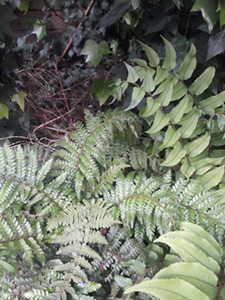 For the past few years I have taken much more interest in my small back garden. Glossy bright green ivy and ferns thrive in its darkest corners. A group of lily of the valley plants that seemed to die as soon as they were planted have surprised me by springing back up out of the ground. One warm summer I managed to grow so many cherry tomatoes I could barely eat them all – the unripened fruit went into a huge batch of tangy green tomato chutney. One of my favourite things to do is spend a few minutes by the window watching house sparrows splashing in a bowl of water or bathing in the dust. I optimistically left a hole under the fence for hedgehogs. Unfortunately, I haven't seen evidence of one of these visitors yet, but the hole is occasionally used by a squirrel or a neighbour's cat dropping by for a drink.
Many of us have been spending more time outdoors over the past year, often because we are at home more often and need a break from our screens or because few other leisure activities are available. But there is growing evidence that there is more to it than that. It is now fairly well established that time spent in green spaces can help in relieving stress and anxiety. Here in the UK, the Royal Horticultural Society is just one of the organisations that have carried out research into this. In 2018 they worked with the NHS to design the Feel Good Garden for the Chelsea Flower Show which was later relocated to a north London mental health hospital. Last year the Environment Secretary announced a £4 million pilot project to bring green social prescribing to seven sites around the UK, the project will link people to projects involving walking, community gardening and food growing. The popularity of these ideas in part reflects growing recognition that mental distress has social causes and cannot simply be understood in medical terms.  
Gardening and other outdoor activities offer opportunities to meet new people, a source of structure to our day and in some cases have been a route to employment for mental health service users. But being around plants also seems to offer something less tangible, they elicit a strong emotional response from us. Spending time in the garden appeals to the senses and captures the attention, giving people a chance to take a break from their thoughts.
Gardens have been described as having powerful, almost magical, healing powers. But the attractive properties of plants, their bright colours and gorgeous scents have also made gardening into a big business. In 2020, people in the UK spent £5.4 billion on outdoor spaces with 322 million more plants purchased than the previous year. Gardening TV shows, seed catalogues and now social media offer us tempting opportunities to fill our gardens with perfect flowers and vegetables. Perhaps we can even imagine buying our way to wellbeing. I love planting seeds and the feeling of accomplishment when they germinate and grow. But many of the seeds I plant are overrun with weeds or simply fail. The plants I grow are rarely as seen on TV.
There are also limitations to the idea that we need to connect with nature. Where does it leave those of us who are not always successful in our garden plans? Are we not sufficiently connected to nature? The idea of connecting to nature assumes that humans are disconnected in the first place. We tend to think of nature as something that is encountered in the wilderness. According to this view, urban environments are a pressure on the natural world and we need to leave the city to be really close to nature. But humans are part of nature too. When we grow plants in our gardens or inside our homes we are part of manipulating the environment, but by cultivating domesticated plant and animal life rather than creating a new wilderness. The activities of gardeners across the city have been part of creating new environments and providing habitats for species such as foxes, cats and house sparrows.   
Gardening is a process of experimenting. Gardeners need to consider the future growth of the plants. But it offers us no guarantees; outcomes are ultimately down to chance. That is one reason why it is an interesting activity in the first place. So "connecting with nature" cannot be a quick fix for our mental distress. Nature doesn't do what we want it to – and we shouldn't expect it to.
You can explore all Thrive LDN's activities on our Mental Health Awareness Week 2021 campaign page which is being updated throughout the week or download our campaign pack here.