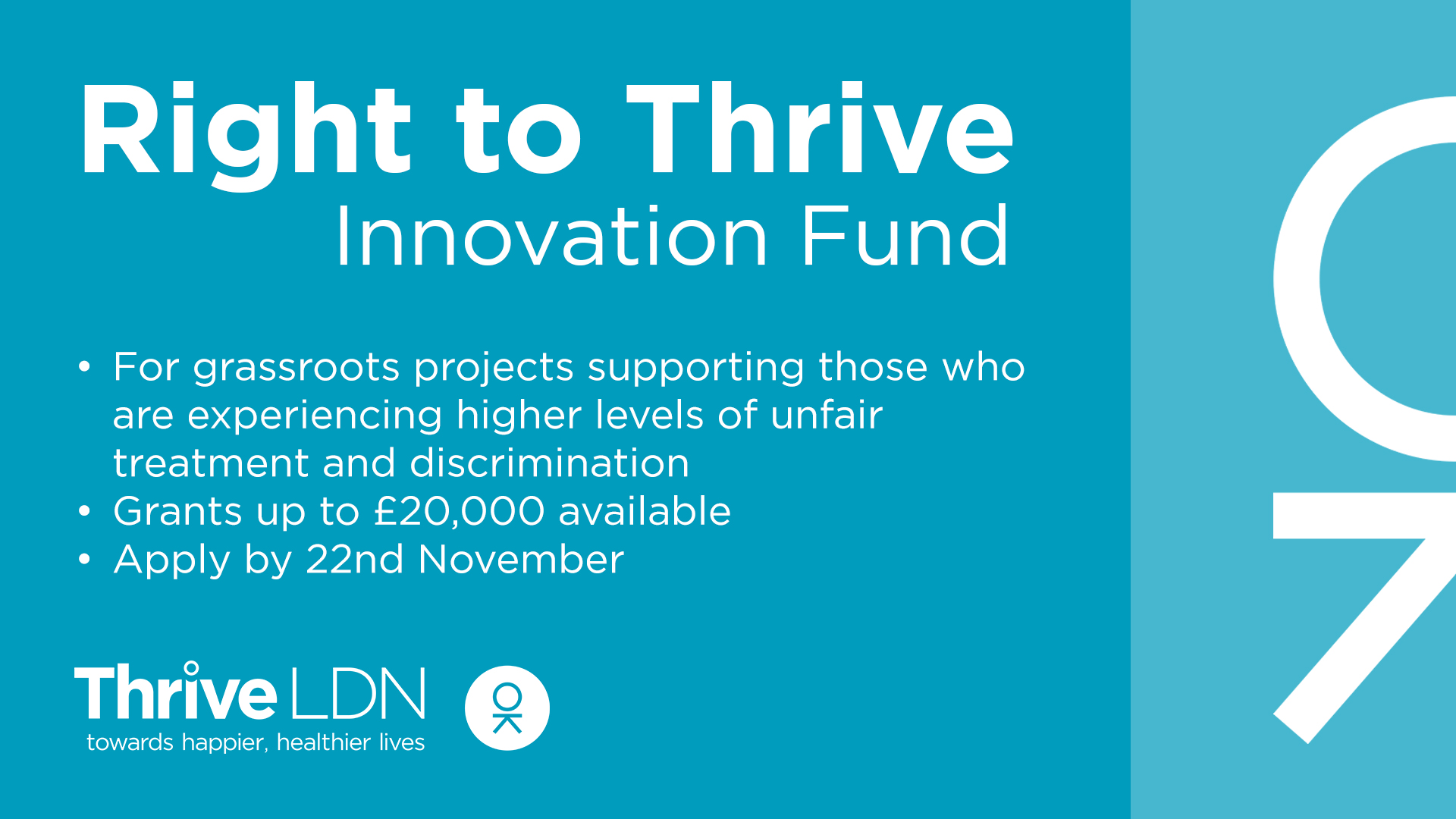 A new grassroots and community focused grants scheme has been launched by Thrive LDN as the next phase of the Right to Thrive initiative.
The Right to Thrive Innovation Fund is a small-grants scheme totaling £100,000. It is designed to fund and support innovative community and grassroots projects across London which help support the mental health and wellbeing of those who are experiencing higher levels of unfair treatment and discrimination.
The fund is particularly designed to support those who typically find it difficult to access other forms of grant funding. It follows the success of a previous grants scheme which supported 24 community and grassroots projects designed to improve the wellbeing of people from racialised and/ or minoritised communities in London.
The Right to Thrive Innovation Fund will award grants of up to £20,000 and a broad range of projects will be considered. However, Thrive LDN is particularly keen to support projects which aim to address one of the recommendations set out in the Pandemic Stories report. Pandemic Stories, delivered in partnership with Toynbee Hall, is a Participatory Action Research project exploring the experiences of Londoners disproportionately affected by the COVID-19 crisis.
The fund also aims to support the London Recovery Board's Mental Health and Wellbeing Recovery Mission by empowering local community ambassadors and ensuring that in the longer-term, those groups and communities most impacted by the pandemic can live healthier, happier lives and improve their mental health and wellbeing.
Applications are open until Monday, 22 November. 
Full guidance about this fund and further details about how to apply can be found on Thrive LDN's website.
Additionally, Thrive LDN is holding an online information and Q&A session on Wednesday, 10 November between 11am – 12pm to help answer any questions about the fund. You can book online here.
Commenting on the launch of the fund, Dan Barrett, Thrive LDN director said: "Right to Thrive is Thrive LDN and partner's ongoing commitment to celebrate and protect diversity in London, especially for those at higher risk of unfair treatment based on their identity, beliefs, or social class, and in some cases a combination of these.
"We're excited to launch The Right to Thrive Innovation Fund to expand the broad range of partnerships and activities which collectively aim to support those communities and groups most likely to experience poor mental health to amplify their voices, share power and leadership, and address some of the health equity issues they are facing."
Barrett added, "As we emerge from the coronavirus crisis, we must continue to put people and communities in the lead, allowing us to develop meaningful and trusted relationships at a London, multi-borough and community level. Doing so will allow us to support the wellbeing and resilience of all Londoners who need help and support now and beyond the pandemic."