Thrive LDN and PAPYRUS to offer free suicide prevention training to all further education (FE) institutions and universities in London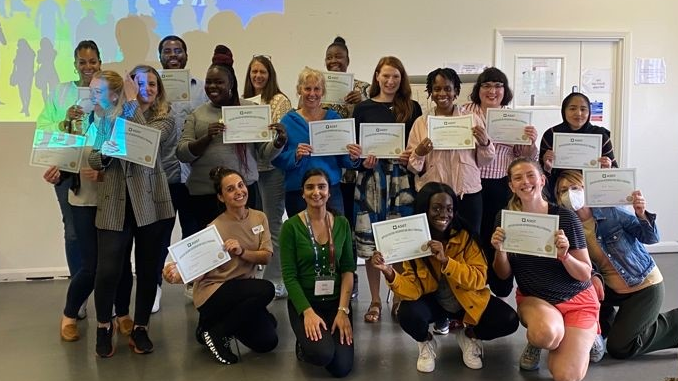 More than 11 people a week take their own life in London and although this rate varies across the capital, we know that some groups are at a higher risk.
Suicide remains the highest cause of death for young people under 35 years old in the UK. Many more attempt or contemplate suicide, self-harm, and feel unable speak openly about how they are feeling.
Since 2019, Thrive LDN has been working in partnership with the national charity PAPYRUS Prevention of Young Suicide to provide free training to staff in education settings across London through the Suicide Safer Schools programme.
This week, Thrive LDN and PAPYRUS have announced that they will be launching a new training partnership to offer suicide prevention training to all further education (FE) institutions and universities in London. The rollout of new training has been funded and supported by the Mayor of London.
The training will provide much needed mental health support to students and staff who, through their professional role or relationship with young people, would benefit from being equipped to respond to those in crisis.
The new partnership follows the success of the Suicide Safer Schools programme which has delivered training to 1,147 people in schools and colleges across three types of workshops: a 90-minute session (phase 1), half-day session (phase 2), and the accredited ASIST two-day course (phase 3).
The various courses facilitate greater literacy surrounding the topic of suicide and mental health, and educate those working in schools and colleges on how to spot and address warning signs that a young person might be thinking of suicide. This is a means of tackling the disproportionate mental health impacts of the COVID-19 pandemic on younger age groups.
The Suicide Safer Schools programme has helped mitigate the risk young people taking their own life when struggling with their mental health. More than 9 out of 10 people who have taken phase 2 training said they had a better understanding of safety planning since attending the training. And 1 in 4 had subsequently completed a safety plan with a young person because of the training.
3 out 4 people who have taken phase 3 training said they would undertake a suicide intervention if someone was displaying suicidal thoughts, compared to only 1 in 10 before the training. A full evaluation of the Suicide Safer programme is due to be published in the summer.
A recent 2020 report into the mental health of London's higher education student population highlighted that 1 in 4 of those that were surveyed had experienced thoughts of suicide in the last year. Although there are many front-line agencies and organisations working hard to support those in need, demand for these services is high and the offer of free suicide prevention training for this group could make all the difference.
For more information about the training and to register your interest, email info@thriveldn.co.uk.
The partnership will complement Thrive LDN's focus on multi-agency suicide prevention and PAPYRUS's extensive experience of engaging communities and volunteers.
Dr Phil Moore, co-chair of Thrive LDN's Suicide Prevention Group, said: "Thrive LDN and partners are proud of the partnership we have with PAPYRUS for the benefit of young Londoners. This partnership has helped mitigate the risk of young people taking their own life when struggling with their mental health. I'm delighted we have been able to extend the offer of free training into all further education institutions and universities. By doing so we can support even more people who are working or engaging with young people in London to have a greater awareness of suicide prevention.
"The only way we can help young Londoners is to create an open city where people have the confidence to speak about mental health and to seek help when they need it. It's so important that agencies and organisations work together and towards the goal of making London a zero-suicide city."
PAPYRUS believes many young suicides can be prevented and student communities can be made safer.
PAPYRUS Chief Executive, Ged Flynn, said: "This new training partnership with Thrive LDN will enable us to continue giving hope to young people who are struggling with life.
"From breaking down the stigma around suicide and equipping people with the skills to recognise and respond to suicidal behaviour to developing strategies focused on understanding and preventing suicide, by working together we can help to keep our colleges and university campuses suicide-safe.
"Everyone has a role to play in saving student lives and young people need to know they are not alone and that professional help and advice is available." 
For practical, confidential suicide prevention help and advice please contact PAPYRUS HOPELINEUK on 0800 068 4141, text 07860 039967 or email pat@papyrus-uk.org.
Thrive LDN and partners continue to share the ultimate aspiration of making London a zero-suicide city. The #ZeroSuicideLDN campaign has seen more than 290,000 Londoners take free, online suicide prevention training since its launch in 2019 by the Mayor of London and aims to have half a million Londoners trained by 2024.