Friday 22nd May, 2.30pm – 4pm
How can we cultivate softness in what is currently a very hard world to live in?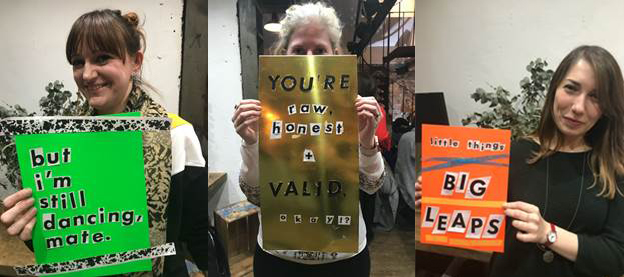 An online workshop with The Fandangoe Kid looking at being kind to ourselves and the reciprocal relationship this has with our mental health.
How have you found the confinement? Have there been any hidden blessings?
Have you spoken to yourself kindly or negatively, or a bit of both?
During this workshop, we will reflect on how important it is to cultivate kindness from within, at a time when the world is particularly hard and at a time when we are emerging from extended periods alone, where our mental health and resilience has really been challenged.
Register and join
Zoom details will be shared ahead of the event for those who have registered. Register online here.
Materials you need for the workshop
Large format paper / cardboard / anything paper based that can be used as a canvas!
Typography: found type in newspapers / magazines / bills / packaging + possibly stencils / anything to make lettering
Pens / tapes / collaging equipment / labels / mixed media of any kind to make a multimedia piece where possible
A cutting mat or failing that, a chopping board!
A scalpel or failing that, a pair of scissors
Some glue
About The Fandangoe Kid
The Fandangoe Kid is a London based print artist who makes large-scale narrative driven pieces for the public realm. She seeks to smash taboos around complex subject matters such as loss, trauma release, mental health and gender constructs.
She has created work for a wide range of purposes, most recently installing artwork on 14 metre pillar for University of the Arts London's 120th year anniversary and a large-scale permanent piece of public art at the Southbank Centre for the charity CALM.
For World Mental Health Day 2019, she installed an 80 metre floor narrative at City Hall for the Mayor of London and Thrive LDN (below), addressing the connection between movement and mental health. Additionally, she screened her film Into Your Light, directed with Tara Darby, at Tate Modern and on the Manhattan Bridge, looking at dancing as a tool for survival following great personal loss.
Much of the artist's work is driven by navigating her own story, following the loss of many individuals in her family back in 2011, her practice being largely underpinned by the will to create a platform for open dialogue around the still taboo subject of grief.
She has worked with young people in Hackney and inner city London for over a decade, her remit being to encourage young people from all backgrounds to know themselves better through their creative practice.