Thrive LDN is supporting an Acts of Kindness Bench pilot scheme – known as AOK Benches for short – across London to help combat loneliness and isolation.
The pilot scheme, launching on National Random Acts of Kindness Day 2020, is open to all Londoners who want  to create a safe place where people can meet and share a chat in their area. Community bench schemes, such as the Happy to Chat Benches, have been successful in other parts of the UK as well as globally, in doing this and becoming health assets for local communities.
Find an AOK Bench near you
Why a community bench pilot?
The idea of a community bench scheme in London to help give communities a space to have a conversation was initially developed during the Thrive LDN Champions Network Leadership Development Programme.  However, the concept is not new and the Campaign to End Loneliness have been trialling chat benches in libraries in south London.
In a survey of Londoners, 8 per cent of respondents said they often or always feel lonely, and over a quarter are socially isolated. It is an issue that cuts across generations too, with young people in London responding that they are more likely to be lonely or feel socially isolated.
DS Ashley Jones MBE has been leading a community bench scheme in Avon and Somerset to great effect. He told Thrive LDN: "Some people may go days or even weeks without the simplest of human contact, so the Chat Bench seeks to break down that social barrier and allow us to all say 'hello'."
Establishing your own AOK Bench
The main principle of the bench is to encourage community conversations and offer a social space for residents.  So, whether you're a local authority or a member of the public, getting involved is really simple.
Download an AOK Bench sign, weatherproof it by laminating or by other means, then place the sign on a local bench in your community and there you go… you have a functioning AOK Bench.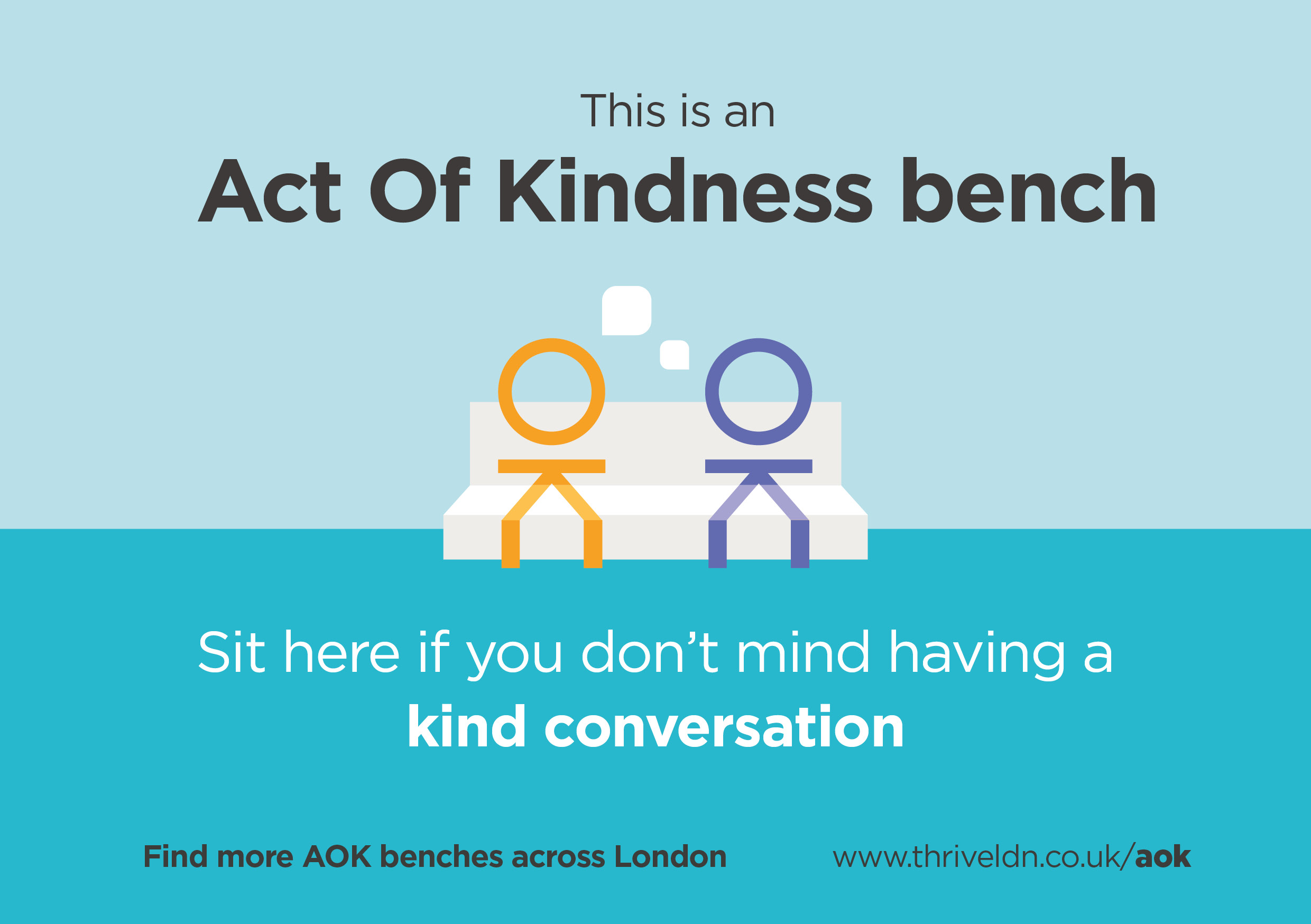 To add your bench onto our AOK Bench map of London, simply completing this form.
What to say on the bench?
Once you have established your AOK Bench, the best thing you can do to contribute to its success, is simply to sit on the bench and chat to fellow bench users. As part of the pilot scheme, we'd value people's feedback from their experience(s) of participating in a conversation on an AOK Bench.
You can let us know via info@thriveldn.co.uk or by completing this online survey.