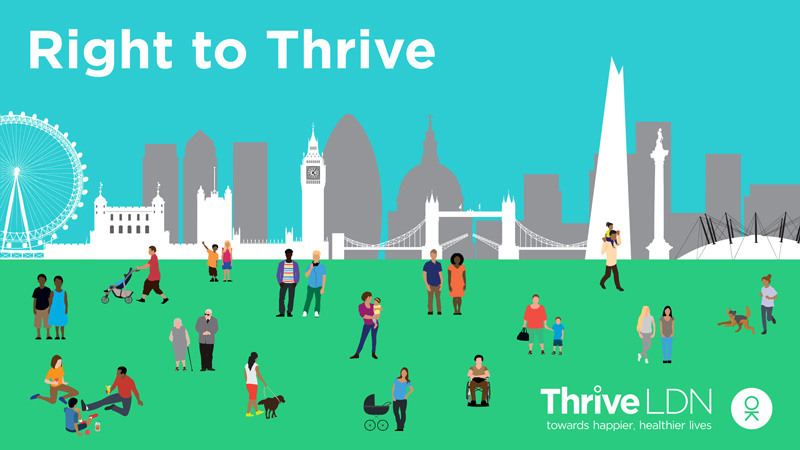 Thrive LDN's new Right to Thrive grants scheme has awarded more than £170,000 to 24 community and grassroots projects across London to help support the mental health and wellbeing of those who are experiencing higher levels of unfair treatment and discrimination. Since the Pandemic, 22 of the projects were able to be delivered.
The projects range from supporting mental health outcomes for refugees, asylum seekers and other vulnerable migrants, providing a safe space for Black, Asian and minority ethnic women, as well as establishing a community choir, creative activities, community rugby for young black men, and expanding spaces for LGBT Southeast Asians. All projects aim to improve the wellbeing of people from intersectional and marginalised communities in London.
The Right to Thrive grants scheme from Thrive LDN is making additional support available to communities and groups who are particularly vulnerable to experiencing poor mental health.
2020 Grant Recipients
Click on an organisation below to learn about their Right To Thrive project
Ealing Trailfinders Foundation
East London Out Project – ELOP
Queens Crescent Community Association
Royal Association for Deaf People
Southeast and East Asian Centre
Bowhaven (withdrew the project because the organisation had to close down)
The Grenfell Tower Trust (withdrew due to unforeseen circumstances that meant the organisation could no longer deliver the project)
360Giving and open data
Thrive LDN is committed to being as transparent as possible as a funder. This is why we joined the 360Giving initiative together with other funding bodies to publish our grants data.
We have used the 360 giving data standard as a way of publishing our data, this will be updated when new grants get awarded.
https://thriveldn.co.uk/wp-content/uploads/2020/08/Right-to-Thrive-grants-scheme-organisations-2020.xlsx
This work is licensed under the Creative Commons Attribution 4.0 International License. To view a copy of this license, visit http://creativecommons.org/licenses/by/4.0/. This means the data is freely accessible to anyone to be used and shared as they wish. The data must be attributed to BBC Children in Need.
360Giving is developing tools that will help funders and fundraisers make use of grant data. Some examples can be found on 360Giving's GrantNav page.