Organisation website
Social media
About the organisation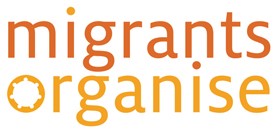 Migrants Organise is an award winning, grass roots platform where migrants and refugees connect, build common ground, speak out and organise for dignity and justice. We believe that, if given a chance, refugees and migrants can rebuild their lives, thrive and make a positive contribution to their communities of arrival.
Those we work with include refugee families, asylum seekers, torture and human trafficking survivors, domestic migrant workers and undocumented young people.
Our London based Community Programme has an holistic approach involving immigration\welfare advice, group activities and mentoring with an emphasis on mental health and well-being.
Our national Community Organising Programme involves work with migrant community rights organisers and grassroots groups to address discrimination and build alliances for systemic change.
We also set up the annual Women on the Move Awards in 2012 at the WoW Festival to celebrate exceptional leadership and contribution from migrant/refugee women to the UK.
About the project
Our project is providing intensive support to 50 vulnerable refugees and migrants aiming to make a positive difference to their mental health and quality of life. Even before the Covid-19 crisis many were struggling with isolation, depression, post-traumatic stress, panic and anxiety – but the need for support is now even greater.
Our project provides the following activities:
1. Mentoring – matching individuals with volunteer buddies who provide one-to-one emotional and practical support;
2. Group-work activities including a voice group, English classes and sewing group;
3. Specialist peer-support for survivors of gender-based violence and/or trafficking.
Key project outcomes that we will measure are:
Improved mental health and wellbeing;
Development of resilience and coping mechanisms;
Growth in meaningful connections.
Activities are being delivered online but we will organize some outdoor socially distanced mentoring and resume our walking group and other activities when it is safe to do so.

Contact information
Francesca Valerio, Community Programme Director
francesca@migrantsorganise.org