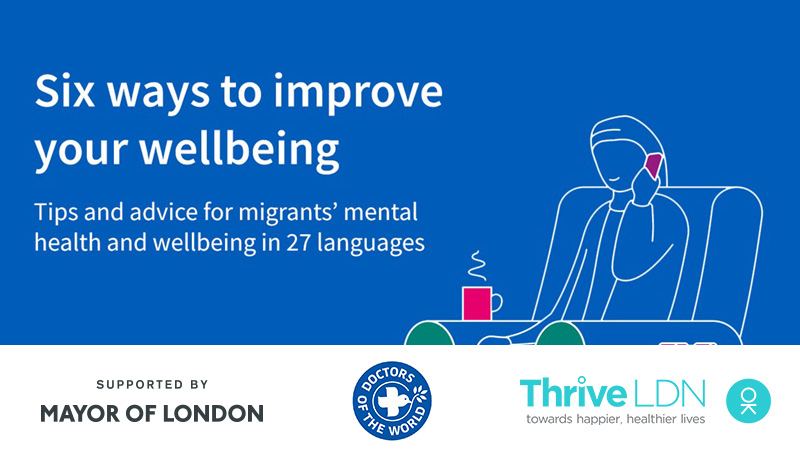 Doctors of the World, in partnership with Thrive LDN, has produced wellbeing guidance to support migrant communities during COVID-19.
Titled "Six ways to improve your wellbeing", the guidance is available in 27 languages, including: English, Albanian, Amharic, Arabic, Bengali, Bulgarian, Dari, Farsi, Filipino, French, Hindi, Kurdish, Malayalam, Pashto, Polish, Portuguese, Punjabi India, Punjabi Pakistan, Romanian, Simplified Chinese, Somali, Spanish, Tigrinya, Traditional Chinese, Turkish, Urdu and Vietnamese.
Taking care of yourself is really important, especially in these challenging times. Follow these six simple steps to improve your mental health and wellbeing, and remember, you're not alone – we're all in this together.
Please share widely so that everyone can access this important information in their own language. This format is printable as a booklet, so feel free to print and distribute.
This project is supported by the Mayor of London.
To download the guidance in any language via PDF, visit Doctors of the World here
Other resources to help you cope
There are a number of other resources and services available to support your mental health and wellbeing during this challenging time. Explore these here.