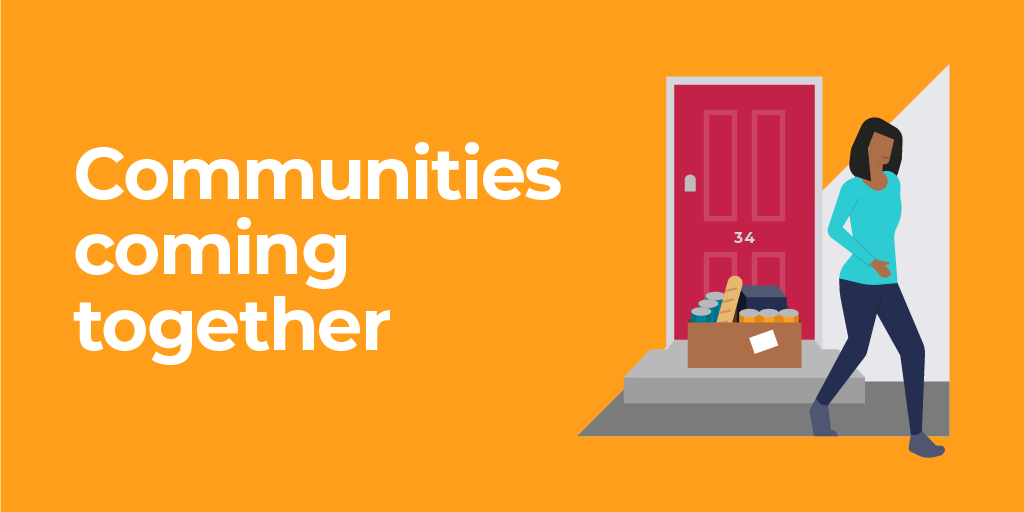 The coronavirus (COVID-19) pandemic is a terrible thing which we are experiencing at an individual, community, national and international level.
Whilst it has been a tough year for many Londoners, we heard of amazing stories from right across our city of what people did to help keep themselves, neighbours and loved ones well and supported during periods of lockdown and heightened safety measures.
The coronavirus crisis has shown how London is full of amazing communities. You may have seen or heard about the Mayor of London's #LondonTogether campaign which is continuing to celebrate the sense of community and togetherness being displayed across the capital.
However, now more than ever before, we need to harness the energy in each community to help neighbours, friends and those who require more support at this challenging time. We know that there are many people who want to reach out a helping hand to those around them who are or have been affected.
If you can, keep a helpful eye on your neighbours and people you know in your local community who may need extra support. Try to stay in touch by phone, text or online to limit contact.
To help, here we highlight a range of resources which will support you to support others safely, as well as outlining some local services and organisations you can become involved with.
Supporting those distressed by the coronavirus pandemic
The coronavirus crisis is an extremely distressing event, which is impacting people's lives and wellbeing differently. Although everyone is affected in some way by this pandemic, there are a wide range of reactions and feelings each person can have. Many people may feel overwhelmed, confused or very uncertain about what is happening. They can feel very fearful or anxious, or numb and detached.
Therefore, knowing the most supportive things to say and do for people who are very distressed is really important. You can explore our guidance on how best to support those adversely affected or distressed by the coronavirus outbreak. It will also give you information on how to approach conversations safely for yourself and others, and not to cause harm by your actions.
If you're worried about someone else
As most of us will be apart or unable to spend time with family in the way we normally would, it is important that you feel confident in supporting others who may be struggling in your community.
Many people struggle to cope at one point or another of their lives. Experiencing a range of emotions during these times is common. Starting a conversation can be the first step in letting someone know that they're not alone. The Samaritans has some helpful advice on how to start a difficult conversation and how to be an active listener.
There is also free training which will equip you to be more confident in spotting the warning signs that someone may not be okay. The Zero Suicide Alliance's online training is supporting people to be better prepared to help someone with suicidal thoughts and raise awareness of poor mental health. Taking the training could equip you to save a life, but the skills you learn also apply to listening and responding to anyone in distress or difficulty.
Online psychological first aid training
Public Health England (PHE) has developed an online Psychological First Aid (PFA) training module, aimed at all frontline and essential workers and volunteers. The course teaches the key principles of giving psychological first aid in emergencies and aims to increase awareness and confidence to provide this support to people affected by COVID-19. 
Support services you can be involved with
With a challenging period ahead, lots of people have been asking us how they can support people in their community who are staying at home.
Here are just some ideas and ways you can help, you may be able to find more on your local council website or find the 'volunteer and donate' section on the Mayor of London's coronavirus hub helpful too.
The NHS Volunteer Responders are helping people throughout England to stay safe during the coronavirus crisis, and to support the NHS and care services. As part of this work, volunteers will also be able to help with the coronavirus vaccination programme too. You can find out more and register to be an NHS Volunteer Responder online.
Age UK neighbourly volunteering initiative is providing a printable postcard that you can download and use to reach out to neighbours who may be at particular risk of isolation and loneliness.
Love Your Neighbour is a social response, in partnership with the HTB Network and others, to get essential provisions to those most in need. It is being run through a 'volunteer helpforce' who keep in phone contact with isolated people, assist with emergency errands and provide practical support to local hospitals.
The Befriending Network provides info on in-person support groups in the community, as well as helplines and online chats. They also provide information on how you can become a volunteer befriender.
During the first lockdown there was a real drive to develop local organising to support the most vulnerable in our communities. Much of this is still taking place in local communities, you can find out more through online directories such as Covid-19 Mutual Aid UK.
Supporting your own wellbeing and safety
Please remember, that community care is about preventing the spread of COVID-19 and providing support for the most vulnerable. If taking part in physical activities, then follow the latest government guidance and always ensure your own personal safety too.
You can read Volunteering Matters' guide on how to volunteer safely in response to COVID-19. It provides a range of guidance and instructional videos for how you can help others in your community safely.
Supporting those in distress or who have an urgent need can take its toll on your own wellbeing. If you need support, there are a range of tools and resources to help support your mental health and wellbeing, from advice on handling money worries to free NHS-approved apps from Good Thinking to help you deal with stress, anxiety, low mood and poor sleep.