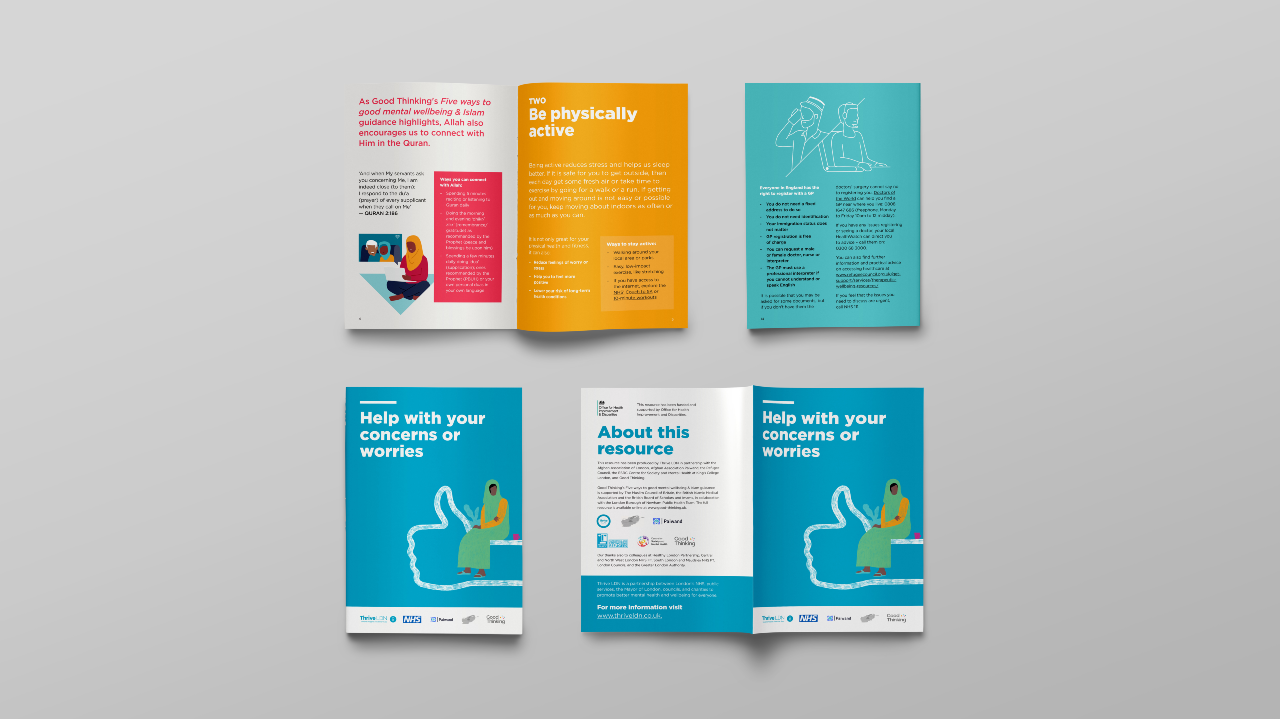 Across London's boroughs there are many people and organisations who are continuing to work hard in supporting Afghan evacuees and helping them settle into new lives in the UK.
There remains, however a large number of Afghan evacuees in bridging accommodation. Although more families and individuals are being matched and resettled, London is also continuing to receive new arrivals.
To help support the ongoing response, Thrive LDN has worked with community partners to create a range of updated resources to support the mental health and wellbeing of the Afghan community.
The range of resources provide the Afghan community – both for newly arrived evacuees and the many Afghans already living in the capital – with practical tools and ideas to encourage good mental health and wellbeing.
With funding from the Office for Health Improvement and Disparities (OHID), the resources have been created in partnership with various community and health partners, including the Afghan Association of London, Paiwand, the Refugee Council, and Good Thinking – London's digital mental wellbeing service.
Supporting those in bridging accommodation and in the community
A 'Help with your concerns and worries' booklet is now available in English, Dari and Pashto and outlines simple tools and ideas to support wellbeing and useful ways to get support for those that are finding it hard. The booklet also contains further information on assisting Afghan evacuees to access professional support including signposting to wider community support services.
Additionally, many Afghan evacuees have also found support through local faith groups. The updated booklets now include extracts from Good Thinking's Five Ways to Good Mental Wellbeing & Islam resources, which helpfully show how wellbeing ideas are encouraged in Islamic teachings.
Thrive LDN is working with London boroughs and community organisations to print and distribute around 7,000 hardcopies of the updated booklets to Afghan evacuees in bridging accommodation and in the community.
Supporting those struggling after traumatic experiences
Good Thinking's Coping with Trauma workbook outlines seven techniques to help people who have experienced trauma and are out of danger now. The workbook provides health care and community partners with a helpful resource that offers expert and trauma-informed support.
The workbook has been developed in partnership with trauma expert, Caroline Harrison, a Cognitive Behavioural Therapist at the Centre for Anxiety Disorders and Trauma, South London and Maudsley NHS Foundation Trust.
Supporting volunteers and professionals on engaging with the community
Refugee Council and Thrive LDN have also published updated advice and a short video for volunteers and professionals on engaging with the community on this subject and practical methods to support these conversations. In the video, Paul Cilla La Corte, the London Therapeutic Services Manager for Refugee Council shares helpful information and advice learned from the nine years he has spent working with refugees and asylum seekers.
These resources also recognise this is a challenging time for professionals and volunteers working in this space and outline ways in which they can also receive support.
Commenting on the updated resources, Karim Shirin, Director, Afghan Association of London said: "Thrive LDN's timely initiative to produce such a vitally important resource for the Afghan community is highly appreciated. These resources will no doubt help the newly arrived refugees and the community to cope with a colossal crisis in such an unprecedented time". 
Dan Barrett, Thrive LDN director, said: "Thrive LDN is delighted to be supporting London's response to helping Afghan evacuees. The humanitarian crisis has had a significant impact on the mental health of not only those directly caught up in the crisis but equally for the Afghan community already settled here in London.
"The distribution of translated wellbeing literature is a small step towards providing some help to the Afghan community through introducing simple tools and ideas to support wellbeing and useful ways to get support for those that are finding it hard. As well as also importantly outlining how individuals and families can access NHS and healthcare services."
Dr Richard Graham, clinical director of London's digital mental health service, Good Thinking, said: "For many Afghans there will be many feelings of loss and sadness about the past, and fears and anxieties towards the future. While feeling this way is more than understandable, it's important to remember there is help available for those that need it.
"We know that many in the Afghan community will find the inclusion of wellbeing ideas linked to Islamic teachings as both supportive and relatable. We're pleased the resources now include extracts from Good Thinking's Five Ways to Good Mental Wellbeing and Islam resources, which were designed in collaboration with members of London's Muslim communities.
"For those helping evacuees who may be struggling after traumatic experiences, our Coping with Trauma workbook and accompanying videos, recently developed with trauma expert Caroline Harrison, are a helpful go-to."