More than 12 people a week take their own life in London. If someone was in crisis, would you know what to say?
Thrive LDN is leading a campaign to get 100,000 Londoners to take the FREE online suicide prevention training.
We've partnered with the Zero Suicide Alliance, who have created a training program to help people to be able to identify warning signs and to feel comfortable having conversations about suicide.
It only takes 20 minutes. But it could make all the difference to someone in need.
Save a life… take the training.
This World Suicide Prevention Day, we hosted a panel discussion examining the links between digital media, suicide prevention and social isolation.
The campaign is supported by the Mayor of London and partners including the NHS in London, London Councils, London's police forces, Transport for London, and other emergency services, such as London Fire Brigade and the Maritime and Coastguard Agency, alongside voluntary and community groups.
1) Download an image below to use on social media (right click to download)
2) Take a photo of yourself holding an 'I've taken the training' poster to share on social media.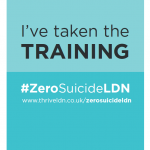 Download an A4 poster here (PDF, opens in new window)
3) Print off a poster to put up in your workplace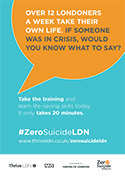 Download an A4 workplace poster here (PDF, opens in new window)
4) Support the campaign by downloading the campaign resources and sharing with your networks.
We have created digital assets, such as social media graphics and desktop screen savers to promote the training. Or use our printed resources to show you have completed the free online training on social media.
All resources can be downloaded here.