Thrive LDN and partners share the ultimate aspiration of making London a zero suicide city. We are working together to learn from current good practices of working which will better enable connections and conversations across London partners that will assist suicide prevention and reduction.
In 2018, 661 Londoners took their own lives; more than 12 people every week. Although London's suicide rate is the lowest in England, it varies significantly across the capital. People in particular groups are at higher risk of suicide, including: young people who may have been in care; people who have been the victims of sexual or physical violence; people coming out of the armed forces; LGBT+ communities; and those who have come into contact with the criminal justice system. Social and economic factors also have an impact.
We believe partnership working is paramount to creating meaningful change.  Within suicide prevention, Thrive LDN particularly considers partnership working key in areas such as the data collection of suicides across London to inform methods of prevention.
#ZeroSuicideLDN
More than 12 people a week take their own life in London. If someone was in crisis, would you know what to say? Thrive LDN is leading a campaign to get 100,000 Londoners to take the FREE online suicide prevention training. We've partnered with the Zero Suicide Alliance, who have created a training program to help people to be able to identify warning signs and to feel comfortable having conversations about suicide. Click here to read more about the campaign and to take the training.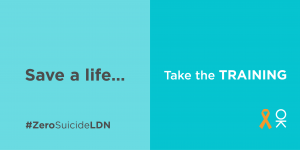 Information Sharing Hub
Thrive LDN, with the help of external partners, have developed London's first multi-agency information sharing hub, allowing vital information to be securely shared to enable effective bereavement support and the improvement of suicide prevention work throughout London.
Suicide Prevention Education
Thrive LDN have commissioned Papyrus UK to provide education to schools, colleges and London Universities. The education program consists of three different workshops – 90 minute session, half day session and the ASIST two day course.
Reducing Access to Medication as a Means
This project aims to help community clinicians and primary care staff to design and implement a resource that reduces access to medication as a means of suicide for those people identified as at risk.
For more information on any of our projects, please email info@thriveldn.co.uk