Join an online event to mark Great Mental Health Day 2023.
In a year that's remained challenging for many of us, it has been our communities, friends and families which have played the most important role in in getting us through difficult times together.
Great Mental Health Day 2023 is celebrating the power of community kindness and tell the story of how we've come together for one another across London. The aim of the day is to get us talking about our mental health and wellbeing and to help break that stigma that so often exists around the subject. It's also an opportunity to learn more about the great local initiatives and support services that are available right across London.
Great Mental Health Day 2023 online events organised by Thrive LDN and Good Thinking
You can get involved on the day by participating in one of our regional online events listed below.
—
Good Thinking's guide to looking out for those around you in tough times
11 AM – 11.45 AM
London's digital wellbeing service, Good Thinking will be launching quick guides for GMHD 2023 on looking out for those around you, and supporting those who may be struggling with their mental health. The team is running a webinar to run through three simple steps to help you support others. Register via Eventbrite or sign up using the form below.
—
A Radically Caring Pause
1PM – 2PM
Join us for for a Radically Caring Pause to mark London's Great Mental Health Day 2023.
Radical Self-Care (RadSec) is a training programme which addresses people's own anxiety and shame-based self-criticism, often internalised from the society and context in which we live. RadSec draws on our innate capacity for awareness and for care. RadSec stands for and works from the principles of intersectionality, lived experience leadership, and trauma-sensitivity. Mental health is understood in the social context of people's lives. Find out more about RadSec.
Register via Eventbrite or sign up using the form below.
—-
Ikebana Workshop
At 2PM and 4PM
Come and join a relaxed, hands-on workshop which uses the power of nature to boost your mood and appreciate the wild and wonderful art of ikebana.
The ancient art of ikebana was originally intended as a way to use flowers to communicate stories and it is still used today as an effective tool to connect your hands with your mind to find flow while appreciating nature. In this workshop, you'll learn about a few of the modern interpretations of 'ikebana' or 'giving life to flowers' and have the opportunity to create your own art to represent yourself or express your thoughts.
We'll be facilitating two 45-minute workshops during Great Mental Health Day, at 2PM and 4PM. This is a very interactive session and places are limited.
2PM registration
4PM registration
Other online regional events and activities
stem4 Parent Mental Health Day webinar
Thurs 26 Jan, 7PM – 8PM
In support of stem4's annual Parent Mental Health Day, this free webinar on 26th January at 7pm will focus on how parents and carers can successfully adapt to challenging life situations, and deal with their own stress and anxiety, while navigating their family through difficult times.
Speakers will explore how resilience can be built with a minimal negative impact on either the parents and carers or their children and young people.
—-
Confidence to be – why you should make confidence building your no.1 priority
12PM – 1PM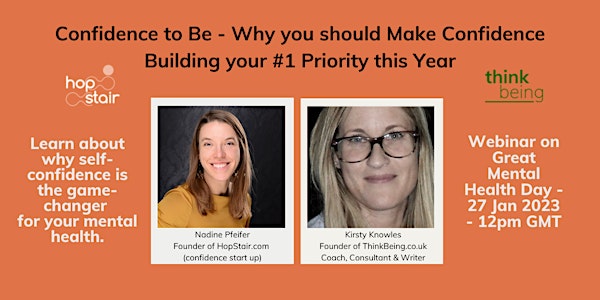 Join this free session led by Nadine Pfeifer, founder of confidence start-up Hopstair and Kirsty Knowles, Coach, Consultant & Writer and Founder of ThinkBeing.co.uk, as they delve into the science and importance of self-confidence to unlock your potential.
Self-confidence is a critical but undervalued factor in developing good mental health. Through this session you will develop tips and techniques on understanding the importance of self-confidence, how to build it and how to sustain this in daily life.