 Supporting Turkish, Kurdish, and Syrian Londoners' mental health needs
On the morning of Monday, 6 February 2023, a series of devastating earthquakes hit southern Turkey (now known as Türkiye) and north-west Syria.
The full extent of the earthquake's impacts is yet to be known but the scale of loss of life and devastation is enormous.
These distressing events will have a significant impact upon the mental health of Londoners, in particular those belonging to the capital's significant Turkish, Kurdish and Syrian communities, now and in the longer term.
Local support sessions
In response to the tragedy caused by the earthquakes in Turkey and Syria, support sessions have been established by Nafsiyat and Day-Mer.
Nafsiyat is holding 2-4 support groups face-to-face and on zoom for those affected by the disaster. Download the poster or explore the details below.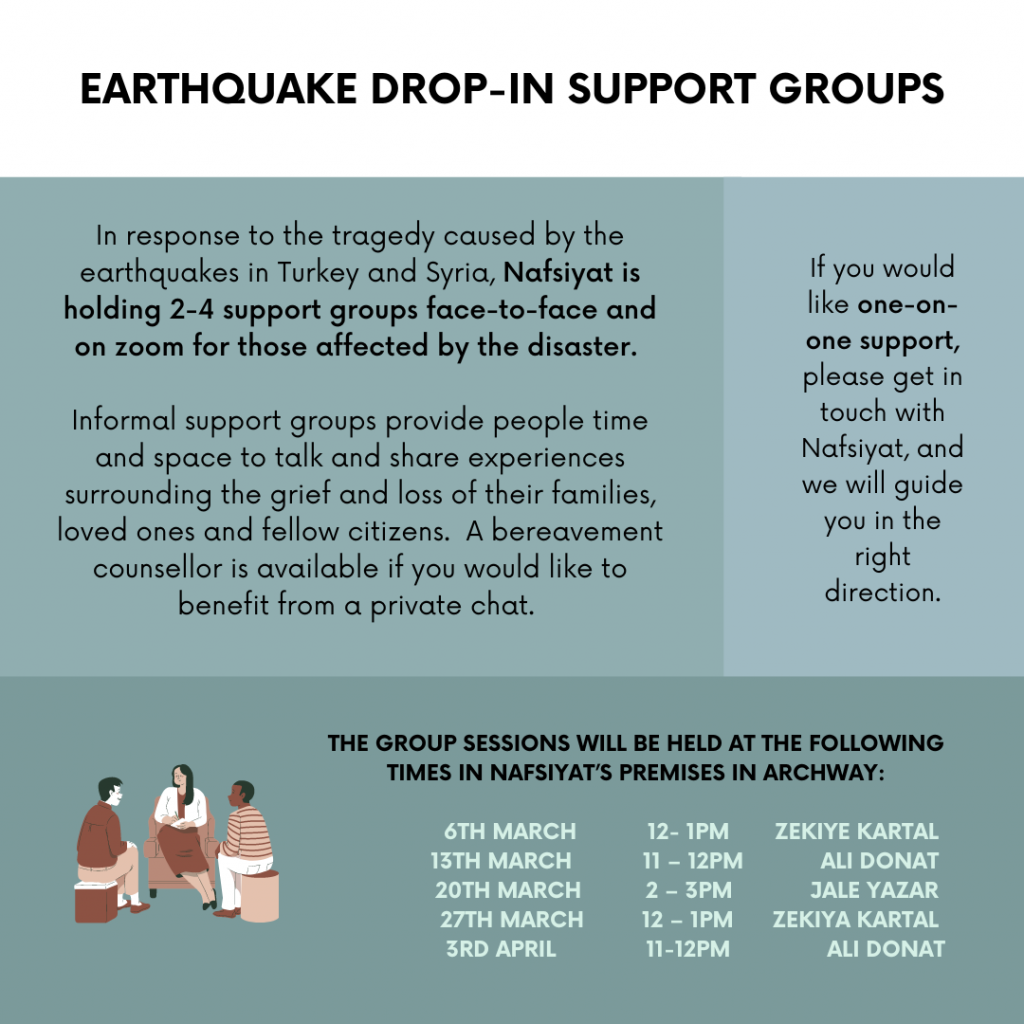 Day-Mer Turkish & Kurdish Community Centre is also holding upcoming activities in Turkish, as well as English.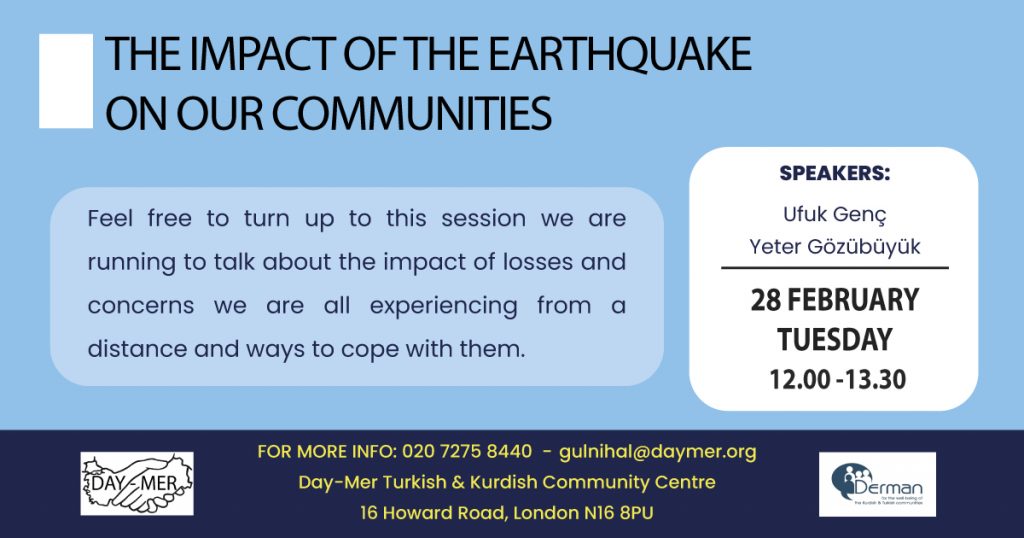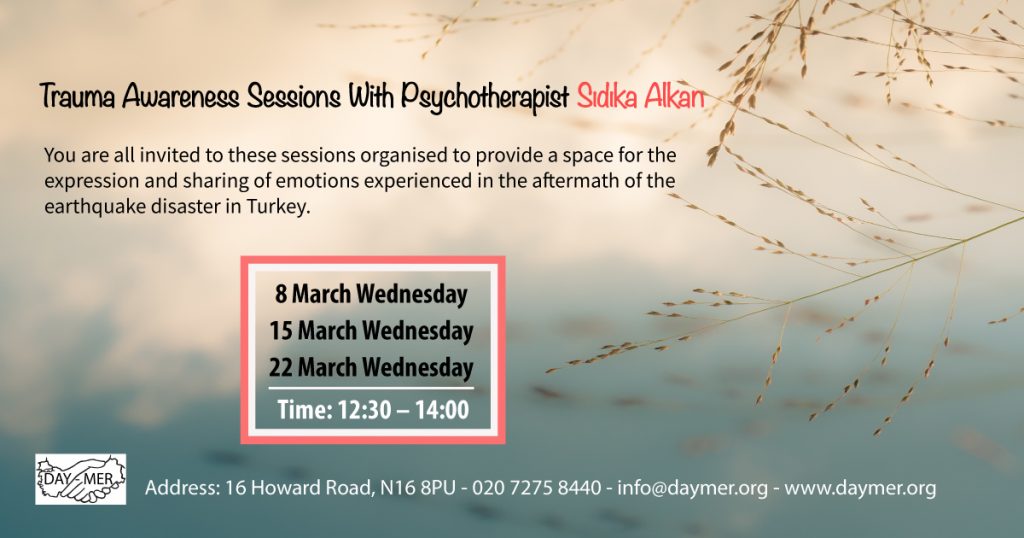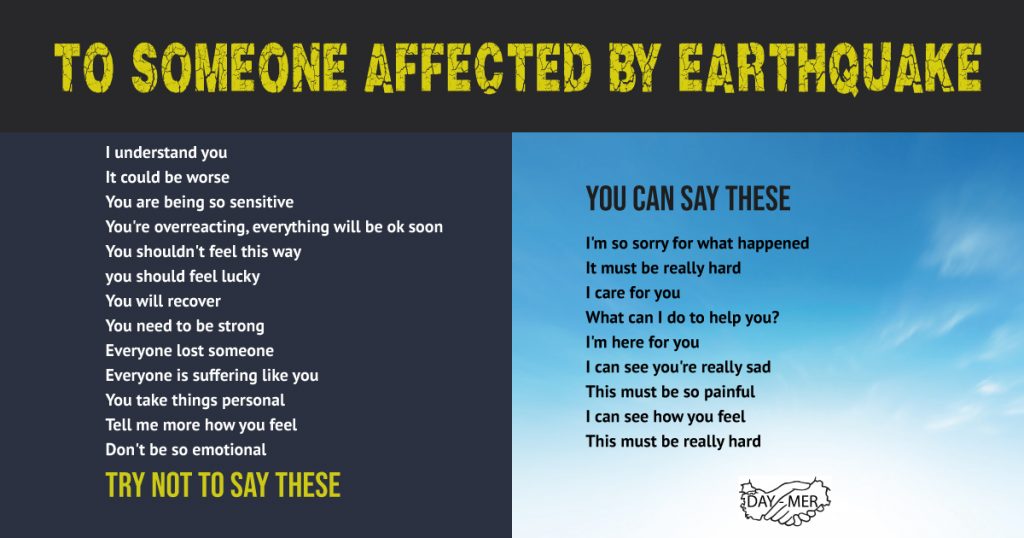 Available mental health support
We have outlined below some suggested sources of support which are available now, which may be helpful for both individuals and those supporting the response. However, these resources are not adapted specifically for the current situation and are offered as a useful tool and/ or prompt for discussion around mental health and wellbeing.
We know you will be experiencing a range of emotions at the moment. The resources presented here aim to offer some ideas about how you can help both yourself and others in your community with the mental health impact of the earthquakes. You will probably find that you already use some of the ideas and approaches outlined across these resources.
For individuals
Wellbeing guidance in 36 languages – including Kurdish, Arabic and Turkish
Five ways to good mental wellbeing & Islam – including Arabic
Good Thinking's tools and advice to support with anxiety, stress, low mood and trouble sleeping
Mental health workbooks developed by Good Thinking and expert advisors – including coping with trauma, coping with trauma videos, sleep, and panic
Bereavement guides and resources on Good Thinking – including an Islam and Bereavement guide.
Thrive LDN support after sudden bereavement resource (currently framed around COVID but may be useful)
24-hour urgent mental health support
For community leaders, professionals and volunteers
In responding to this current crisis, a trauma-informed approach utilised by those who will be interacting with Turkish, Kurdish and Syrian diaspora communities, as well as any Londoner impacted, could not be more important.
Right now, through the Thrive LDN website you can access free, pre-recorded Trauma-Informed Practice training on supporting individuals and organisations. Offered at three levels, this training series is designed to help professionals and volunteers gain an understanding of the impact of trauma and to integrate a trauma informed approach to practice.
Access the free training from Thrive LDN's website.
The following resources may also be helpful in supporting you to help others:
Free suicide prevention training
General guidance for supporting individuals and communities adversely affected by events (currently framed around COVID but is still useful)
Thrive LDN mental health conversation starter tool
Good Thinking offers quick guides to help you to support others, such as friends, family and neighbours in your local community who may be struggling with their mental health.
24-hour urgent mental health support
Developing further resources
We are working with individuals and organisations from the diaspora communities to explore what support would be beneficial or which resources could be adapted for impacted individuals and communities right now, as well as thinking longer term.
Thrive LDN routinely carries out public mental health scenario planning exercises to synthesis available intelligence, anticipate what might be on the horizon and plan actions to strengthen and maintain capabilities to support partners to step up public mental health responses to crises. Read the latest scenario planning briefing on the response to the earthquakes in Turkey and Syria on our website.
Donating to the response
Volunteers across London have already coordinated the collection of 100s of pallets of aid, including blankets and winter clothes which has been sent to affected regions of southern Turkey and north-west Syria.
However, it is important to note that donations of items are not needed and should be avoided due to the logistical issues locally, regionally and at international level.
Londoners are instead being encouraged to donate directly to any fundraising efforts. The Disasters Emergency Committee's 'Turkey-Syria Earthquake Appeal' is helping to provide immediate life-saving aid to people in the hardest-hit areas, including medical treatment, shelter, thermal blankets, food and clean water to people in desperate need of help.
The Charity Commission have urged the public to 'give safely' when looking to support international aid efforts in response to earthquakes in Turkey and Syria.