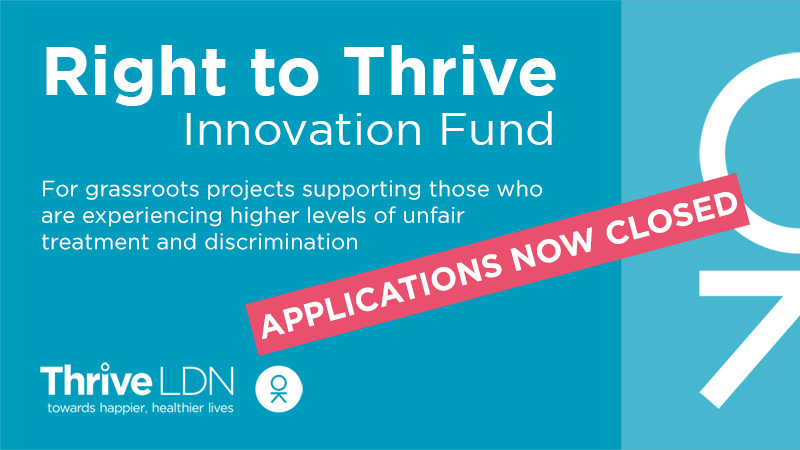 The Right to Thrive Innovation Fund is the next phase of the Right to Thrive initiative.
Applications for the Right to Thrive Innovation Fund have now closed.
Thank you to everyone who has taken the time to engage with the Right to Thrive Innovation Fund and submitted an Expression of Interest (EOI) form.
The team is now reviewing all the EOIs which we have received.  Shortlisted applicants will be invited to have a follow-up conversation with a member of the Thrive LDN team to talk about your project idea in more detail.
What is the Right to Thrive Innovation Fund?
The fund is designed to support innovative community and grassroots projects across London which help support the mental health and wellbeing of those who are experiencing higher levels of unfair treatment and discrimination.
The Right to Thrive Innovation Fund will award grants of up to £20,000 and a broad range of projects will be considered. The fund is particularly designed to support those who typically find it difficult to access other forms of grant funding.
The fund also aims to support the London Recovery Board's Mental Health and Wellbeing Recovery Mission by empowering local community ambassadors and ensuring that in the longer-term, those groups and communities most impacted by the pandemic can live healthier, happier lives and improve their mental health and wellbeing.
More information
If you require any assistance, support or a reasonable adjustment for communicating with Thrive LDN, then please contact the team either via email at righttothrive@thriveldn.co.uk or telephone on 020 8148 5093 to discuss further.