 #ThroughTogether stories
#ThroughTogether stories showcase how Londoners are making a difference to those in their local community and beyond by supporting each other through the emotional pressures and challenges they may be feeling right now.
#ThroughTogether stories showcase how Londoners are making a difference to those in their local community and beyond by supporting each other through the emotional pressures and challenges they may be feeling right now.
Wellbeing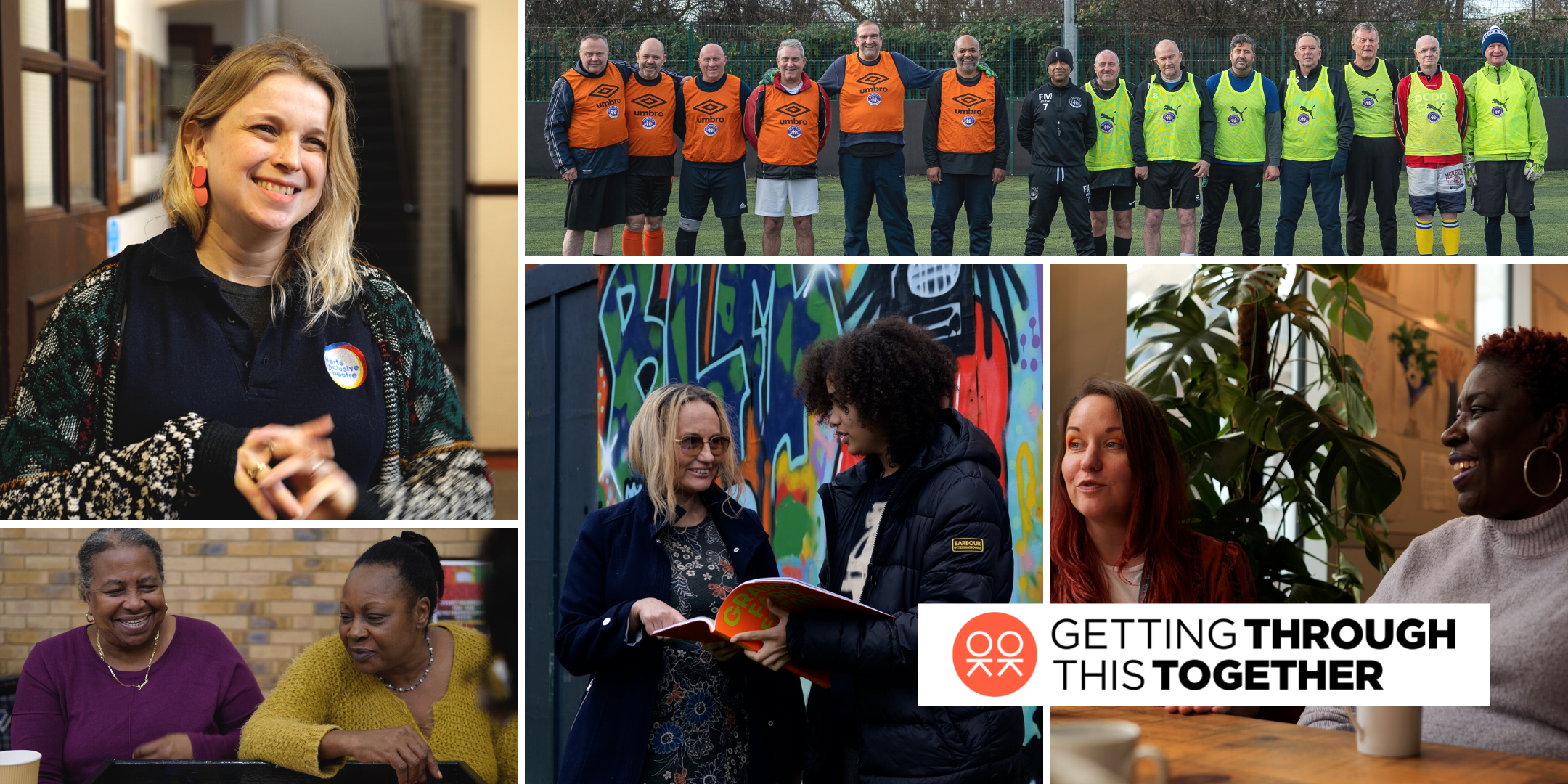 Campaign
Getting Through This Together is a new campaign from Thrive LDN which has been developed in response to the increased cost-of-living pressures.
As part of the Getting Through This Together campaign, we have been working with community groups and organisations to create a series of short stories.
#ThroughTogether stories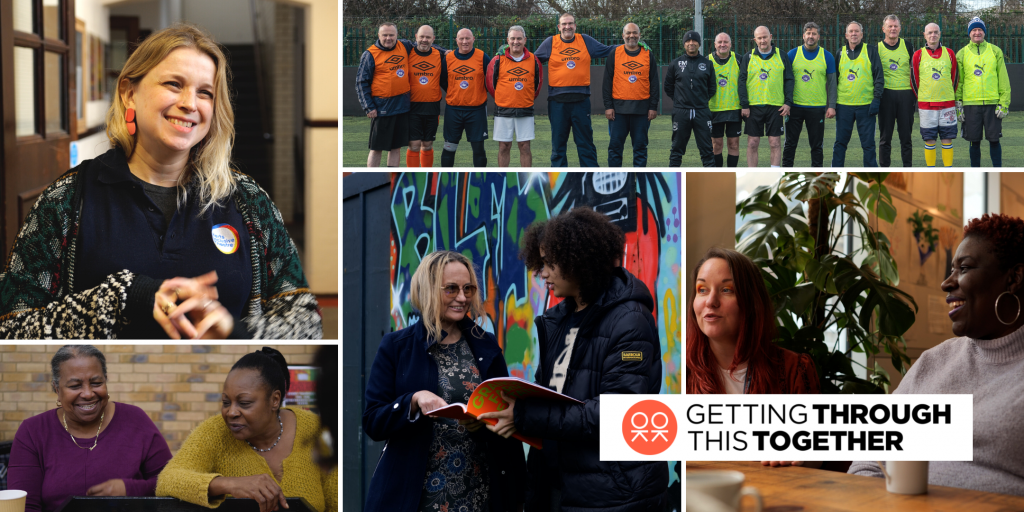 Listed below are eleven #ThroughTogether stories which showcase how Londoners are making a difference to those in their local community and beyond by supporting each other through the emotional pressures and challenges they may be feeling right now.
The stories range from 'Meet Up Mondays' in a Wimbledon pub, to song writing, rap and spoken word with young Londoners in Woolwich, as well as a family centre helping to provide empowerment and build confidence near Battersea Park. Pupils at a school in south west London also tell us how they have set up their own 'chitter chatter benches' to encourage kindness and caring in the playground.
But we know this is just a snapshot. Examples of community kindness can be found right across our city.
We want to hear about your stories to create a space to share how people are making a difference to others.
Help us shine a light on how we are dealing with the current pressures, get in touch with the team.
Find out more about the Getting Through This Together campaign.
Dodgy Tickers
Meet Dodgy Tickers. Based in East London, Dodgy Tickers is a football and exercise based peer-to-peer support programme for over 50s.
Founded 5 years ago by Farooq Mohammed following multiple heart surgeries, the programme is designed to bring people together with various health conditions to exercise in a safe environment and share experiences.
Follow Dodgy Tickers on Twitter and Instagram or find them on Facebook.
The Food Chain
Meet Anna Brewster, Services and Volunteer Manager at the The Food Chain as well as Cleo and Peter, two of The Food Chain's service users.
The Food Chain exists to support Londoners living with HIV to access the nutrition they need to get well, stay well and lead healthy, independent lives. They deliver meals and groceries, offer cookery and nutrition classes and communal eating opportunities to people living with HIV in London and their dependents.
As well as providing tailored packages of support, The Food Chain bring service users together twice a week for group meals at their kitchen in King's Cross. Here they bring people together in a safe, supportive environment to share food and experiences.
As Cleo and Peter share with us, 'it's magical when you see the power that food has to bond people and to create relationships'. The Food Chain is about so much more than food. They give people a place where they feel valued, welcome and safe to talk about HIV without worry.
The Alexandra Pub's 'Meet Up Mondays'
Meet Mick and Sarah Dore, general managers of the Alexandra Pub, Wimbledon.
They have been running a 'Meet Up Mondays' event each week, to show support for those who are lonely in the area. Local residents to the pub can come along and enjoy free tea, coffee, sarnies, and take part in bingo, a raffle or a fun quiz (all for free!).
The afternoon is designed to help those in the community connect with others, offering somewhere for those who are feeling lonely, for whatever reason, somewhere to make friends, have a bit of fun and offer something to look forward to each week.
My Yard
Meet Rachel Dimond, CEO of charity My Yard.
My Yard which was formed in 2014 as a community response to local food poverty and social deprivation in the Harrow, Bushey, and Barnet areas.
It began as a way of sharing surplus food but has organically grown into an empowered, inclusive community represented by residents of all ages and backgrounds who look out for each other, problem solve and celebrate.
Together, The My Yard community is finding solutions to poverty and generating empowering change.
St Mary's chitter chatter benches
Meet the pupils at St Mary's RC Primary School, Wimbledon.
The children tell us about their 'chitter chatter benches', places they've created in the school playground where children can come and talk to others if they're feeling sad or lonely.
Assistant Headteacher, Lauren Davis, helped implement the initiative as a way to support children at the school who may need to seek help or support from others.
Here she tells us about the importance of talking about mental health and wellbeing with young Londoners and how they've been approaching this at St Mary's.
Thinking about this idea for your school, youth club or public space for all ages?
Then explore our Happy to Chat Bench and Spaces Toolkit [PDF] developed during Children's Mental Health Week 2023.
Tramshed and In2Music
Meet the team at Tramshed, a community arts hub based in the heart of Woolwich, south east London.
Tramshed facilitate arts programmes for young people and for adults with learning differences and disabilities. They use the arts as a tool to make people feel good about themselves and others.
One of these programmes is In2Music, a free music course run by Capo Lee where young people are invited to develop their music skills and creativity through learning lyric writing, recording and performing techniques and music production.
In addition to learning key creative skills, those who take form new connections, discover opportunities and feel part of a community formed through an appreciation of music and the arts.
The Paradox Centre
Meet the team at The Paradox Centre in Waltham Forest.
The centre is run by Peabody London to promote healthier, happier and wealthier lives.
The centre offers a wide range of activities and services for all ages to ensure there's something for everyone to enjoy. Every Thursday afternoon, The Paradox Centre's Callaloo Club encourages residents to get together, play games and enjoy a cuppa. The club gives everyone the chance to meet new people, share stories and talk openly about how they are feeling.
The Camden Town Shed
Mike Jenn, life president of UK Men's Sheds Association, filmed at The Camden Town Shed.
The Camden Town Shed provides a workspace for older men (and women on Wednesdays) to make or mend things, undertake projects and share skills, interests and experience. No experience is needed, and all the tools and resources are provided. There is also a kiln for clay.
The shed is just one of many across the country providing spaces for people to connect, converse and create.
Herts Inclusive Theatre
Meet Ellie Short, creative participation manager at Herts Inclusive Theatre, a charity that believes in providing a 'stage for everyone'. 
At Herts Inclusive Theatre, everyone is welcomed to join regardless of needs or ability. They offer a range of regular activities for children and adults that use the arts and wellbeing practices to build confidence, develop skills and give participants and their families enjoyable life experiences.
Participants are encouraged to break down barriers, support each other and express themselves without prejudice in a safe environment. At Herts, everyone has a voice and everyone is listened to.
S.T.O.R.M Family Centre
Meet Marie Hanson MBE, CEO and founder of S.T.O.R.M Family Centre, a domestic violence charity that also has a focus on youth work and general wellbeing. 
As a survivor of domestic violence, Marie founded STORM to help people in need of support. The acronym S.T.O.R.M stands for Support, Trust, Opportunity, Rebuilding and Motivation. STORM offers a range of services for families including free counselling, therapy, a nursery and a befriending group. It also provides a platform for young people to showcase their ideas and prepare them for their futures.
At the centre, they have the opportunity to take part in workshops, training, music, creative arts, cookery and so much more. Empowering people to reach their full potential is at the heart of everything they do.
Bags of Taste
Meet Caroline Stacey, Hackney Branch Head at Bags of Taste, an organisation transforming the lives of people living in food poverty.
Bags of Taste offers help and practical support for those with little money in the form of cooking courses that provide the recipes for long term dietary and financial change.
Participants are provided with free ingredients and the opportunity to learn techniques, recipes, ideas and inspiration throughout the course. Most people take part from their own homes, supported through small WhatsApp groups, led by experienced volunteer mentors. Through the groups, participants to encourage each other and share tips and progress.
The impact Bags of Taste has goes beyond teaching recipes, they support people to make life-long changes that give them back control over what they eat and lead happier, healthier lives. As well as bringing those in the community together when doing this.